Kerala, also known as "God's Own Country," is a tropical paradise located in the southwestern region of India. The state is well known for its breathtaking natural beauty, fascinating culture, delicious food, and friendly people. The numerous beaches, exquisite culture and festivities, climate, and natural beauty of Kerala are among some of the best reasons why you should put it on your travel itinerary if you're planning on visiting India.
Best Reasons to Visit Kerala:
Backwaters
Kerala is famous for its intricate network of backwaters, which consist of lagoons, lakes, and canals that connect the state's inland waterways to the Arabian Sea. A visit to the backwaters of Kerala is a must-do activity for any traveler.
To enjoy the tranquil environment of coconut palms, rice fields, and traditional villages that lie along the waterways, you can either rent a traditional houseboat or take a leisurely boat adventure.
Kerala Backwaters are one of the most important shooting spots for the South Indian film industry.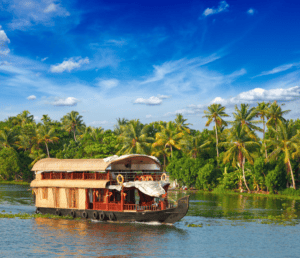 The most famous backwater destinations are,
 Alleppey
Ashtamudi
Kasargod
Kavvayi at Payyanur
Kochi
Kozhikode
Kumarakom
Kuttanad
Kollam
Kottayam
Trivandrum
Paddana
Thiruvallam
Beaches
The beaches in Kerala are among the most stunning in all of India. There is a beach for every kind of traveler, from the well-known Kovalam Beach to the remote Marari Beach. The beaches in Kerala are known for their golden sands, clear waters, and stunning sunsets which makes them one of the best reasons to visit Kerala.
We can find secluded beaches in coastal village areas which are not much familiar to the tourist world. A few famous beaches are.
Varkala
Kovalam
Trivandrum (Thiruvananthapuram)
Kochi
Kozhikode
Kollam
Alappuzha
Payyambalam
Hill Stations and Wildlife
What makes Kerala even more popular and beautiful is the presence of mountains and its wildlife habitat. There are several scenic hill stations with serene views with cool climates which attracts more visitors.
Munnar
Vagamon
Idukki
Ponmudi
Thekkady
Wayanad
Athirapally
Silent Valley
Kerala is one of the places if you want to enjoy a road trip with a view of tea plantations, valleys, mountains, and waterfalls. It is not only famous for its pleasant climate, and picturesque views, but also for trekking, camping, hiking, and jeep safaris.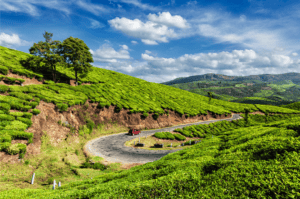 Festivals
Another best reason that attracts tourists to Kerala, is its grand festivals. Kerala celebrates a multitude of festivals, reflecting its rich cultural and religious diversity that has numerous ancient histories.
The most famous festival celebrated is Onam, a grand harvest festival, that features vibrant flower carpets and boat races. Vishu is celebrated as the new year. Thrissur Pooram is one of the most awaited festivals that attract tourists from all over the world.
Eid, Christmas, and Diwali are other most celebrated festivals. These festivals reflect Kerala's cultural richness, uniting communities and offering glimpses into its unique traditions and religious diversity.
Climate
The climate ranges from cool to moderate in the summer season while it offers an extremely cool climate in the winter and monsoon season. The best visiting seasons are early summer, winter, and early spring covering the months of December to May, August, and September.
If you are planning to visit during monsoon season, I would suggest taking precautions since the mountain roads can be slippery.
Food
Kerala is also famous for its exquisite traditional cuisine. It's known for its diverse flavors, use of aromatic spices, coconut-based dishes, and a variety of rice-based meals. Some popular dishes include appam (a type of pancake), puttu (steamed rice cake), sadya (a traditional feast), fish curry, and various coconut-based curries are other best reasons to travel to Kerala.
Nenthrapalam Banana chips are most famous in Kerala for their crispiness and mouthwatering taste. You must try other famous snacks as well that includes Jackfruit chips, Pazham pori, Unniappam, Unnakaya, Ela Ada, and more.,
It is also most popular for its seafood dishes. People usually have fish food more often than normal rice dishes. This place suits well for any food enthusiast.
I would say that with all these great options, Kerala is a destination that has something for every traveler, whether you're a nature lover, culture enthusiast, or foodie. With its breathtaking landscapes, rich culture, and cool climate, various adventure options, Kerala is an ideal destination for a memorable vacation.
Happy Travelling!
🙂