Tamil Nadu, a state in southern India, is well-known for its rich cultural heritage, historic temples, picturesque landscapes, and delicious food. With a diverse range of attractions, Tamil Nadu offers the travellers many reasons to visit. However, choosing the best time to visit is crucial to ensure a comfortable and enjoyable trip. So, here's a guide and few tips to help you in choosing the best time to visit Tamil Nadu based on weather conditions, festivals, and popular events.
I would say that each season in Tamil Nadu has its own characteristics which make it suitable for visiting specific regions. For example, the hilly region can be most explored during the winter and early summer seasons; if you want to enjoy the festivals and culture, then January to May are the best months to visit.
In my opinion, it is wise to look into state's weather, peak and off-peak seasons, festive times, as well as the kind of activity you want to do before visiting the place.
Best time to visit Tamil Nadu
Winter/Cold Weather Season (October to February)
One of the greatest seasons of year to visit Tamil Nadu is in the winter. During this period, the weather is pleasantly cool and comfortable, making it perfect for exploring various tourist destinations. In most of the state, the average temperature ranges from 20°C and 30°C (68°F and 86°F). Popular tourist spots like Chennai, Mahabalipuram, Madurai, Kanyakumari, Kodaikanal, Yercaud, Valparai and Ooty are at their best during these months.
This is also festival season in Tamil Nadu, with plenty of exciting and lively festivals taking place adding to the cultural charm of the state. Pongal, or the harvest festival, is celebrated across the state in mid-January. Diwali, the festival of lights, is another popular celebration that draws tourists from various countries.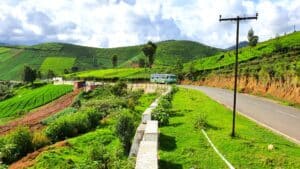 Summer/Hot weather Season (March to May)
Summer season in Tamil Nadu generally hot and humid. Temperatures during this season can reach 40°C (104°F) in several places, particularly in the rural regions. It is not the most favorable time to engage in outdoor activities or temple visits, as the high temperatures can be challenging. However, hill stations like Ooty, Kodaikanal, and Yercaud, on the other hand, have relatively cooler climate compared to other parts of the state making them best places to visit.
One of the major festivals during this season is Tamil New Year, also known as Puthandu, which falls in mid-April. It is celebrated with great enthusiasm, and you can witness colorful processions, cultural performances, and traditional rituals during this time.
Other famous festivals such as Aadi Perukku, Thaipusam or Thaipoosam, Chithirai Thiruvila, Kundam & Kambam festival are grandly celebrated during these months.
Monsoon/Rainy Season (June to September)
Tamil Nadu experiences monsoon rains from June to September, brought by the southwest monsoon. The rainfall varies across different regions, the eastern coastal areas receive more rain compared to the western parts of the state.
However, heavy rains can sometimes make travel more challenging and difficult. The monsoon rain makes the place more beautiful creating a lovely atmosphere which attracts more people from all over the world. Hill stations like Kodaikanal, Valparai, Ooty, Kotagiri, Meghamalai and Yercaud are extremely beautiful and scenic during this time.
It's important to note that some areas, particularly coastal regions, may experience cyclones during the monsoon season. It's advisable to stay updated with weather forecasts and travel advisories before planning a trip during this time.
Things to keep in mind while travelling.
Pack your clothes based on the climate where you're headed.
Rainy weather makes it difficult to travel in hilly areas since the roads get more slippery and there could be a chance of tree falls and landslides.
Carry water with you so that you can remain hydrated during the summer.
It is advisable to have cash on hand while travelling because not all merchants take cashless payments.
Bring the appropriate travel documents if you plan on driving your own vehicle.
Keep your friends and family informed of your whereabouts during travel.
In Conclusion, I would say that best time to visit Tamil Nadu depends on the occasion you are planning since each season is suitable for various events.
Happy Travelling!
For more Travel Tips