Ooty (also called Udagamandalam) is the Queen of Hills located in the Nilgiris District of Tamil Nadu and is the topmost famous place to visit in India. Ooty is bounded on North by Karnataka State on the East by Coimbatore District, Erode District, South by Coimbatore District and Kerala State and as the West by Kerala State.
With the scenic beauty of mountains, tea estates, lakes, botanical gardens, waterfalls, and cool climate, I would say that Ooty is worth visiting. The unpolluted, clean, fresh air, cool climate, and scenic green landscapes of Eucalyptus trees add to the beauty of the location.
Ooty is also famous for its homemade chocolates, Varkey (snack), tea powder. It is not only famous for its scenic beauty and yummy beverages, but also for its outstanding educational institutions. Do not worry about how to reach ooty, because it is well connected by various modes of transportation.
How to reach Ooty?
By Road:
Ooty is well connected by road to several cities. You can reach Ooty by bus services from Coimbatore(86 km), Mettupalayam(51 km) as well as from other cities like Bangalore (270 km), Chennai (555 km), Erode (150 km), Mysore (125 km), Trichy (285 km), Tiruppur (105 km), Kerala (162 km), Palakkad (131 km), Hyderabad (866 km), Kodaikanal (255 km).
There are buses to Coonoor and Ooty from Coimbatore & Mettupalayam, you can board the Coonoor bus and can take either bus or train to Ooty from Coonoor or board direct bus to Ooty.
Bus services usually start at Coimbatore New bus stand (Coimbatore Ooty bus stand). TN government has started bus services from Gandhipuram from 10.00 PM to 5.30 AM to avoid difficulty for the passengers since they can avoid travel to new bus stand.
There are two routes to reach Ooty by road, via Kotagiri  and via Coonoor. To know why to explore kotagiri along ooty.
Traveling by bus is one of the fastest ways to reach similar like Bikes and cars. It takes around 1 hour 45 minutes to reach Ooty with minimal traffic.
The route is Mettupalayam – Kallar – Baraliyar (Burliyar) – Runnymede – Glendale – Coonoor – Wellington – Aravankadu – Ketti – Lovedale – Ooty and the roads are well built which is well maintained by Tamilnadu Government. The route will have heavy traffic during peak seasons as well as during weekends. During this season the route to Mettupalayam-Ooty will be used only for uphill and while returning travelers are diverted to the Kotagiri-Mettupalayam route.
As you know we can also reach via Kotagiri, 33 km from Mettupalayam. The route is Mettupalayam – Odanthurai Forest Check Post – Mettupalayam View Point – Kunjappanai – Aravenu – Kotagiri – Kattabettu – Doddabetta – Ooty. The route has lite traffic compared to the Coonoor route.
Avoid traveling at night since few vehicles are passing by and you might end up facing wild animals. You can prefer the Coonoor route without any fear since you'll be accompanied by many buses, lorries, cars.
You can also travel by Car and Bikes which will be easy for stopping on the way for some good pictures and mountain views.

Don't forget to take some warm clothes along with you to overcome the cold climate. 

Wear helmets, both riders – or else you'll end up being fined by the police.

Don't forget to have the mandatory tea and some spices while you are traveling to Ooty.
Taxi/Cab charges starts from Rs.1500 onwards depending on the taxi services. Bus ticket fare starts from Rs.50.
By Air:
The Coimbatore International Airport, which is located at SITRA, is the nearest. The airport is well connected to major airports all across the country as well as several airports outside of the country. The airport is 89 km from Ooty, 69 km from Kotagiri, and there are so many buses, cabs, and rental vehicles available to get you to Ooty, but the cheapest way is boarding an Ooty bus from Coimbatore North bus stand.
Other nearby airports are Calicut(146 km), Salem(231 km), Mysore(117 km), Trichy(286 km), Cochin(241 km).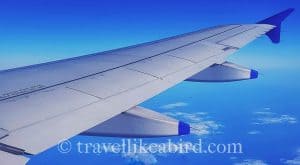 By Train: 
The nearest railway station is Mettupalayam which is located at a distance of 51 km. You can take the local passenger train from Coimbatore Junction, which is well connected to major cities across the state and to many cities outside of the state to reach Mettupalayam.
There are many trains available to reach Coimbatore Junction from cities like Salem, Erode, Palakkad, Bangalore, Chennai. 
After reaching Mettupalayam, you can board bus or hire private vehicles and taxis to reach Ooty. Another way to reach Ooty is by Nilgiri Mountain Heritage train.
Mettupalayam Railway station is the starting point of the world-famous The Nilgiri Mountain Railway / Nilgiri Toy Train. This world-famous heritage train is one of the topmost reasons why travelers and also local people are attracted to Ooty.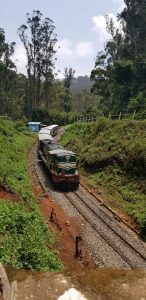 The train runs on the steam engine from Mettupalayam to Coonoor and later on by Diesel engine till Ooty. The route is covered with scenic mountains, dense forests, greeny tea estates, waterfalls, cliffs, bridges, tunnels, and beautiful towns and railway stations. Tickets can be booked online through IRCTC for the first and second classes.
Open tickets are available for the third class at the station. It is advisable to book tickets well in advance, especially during peak season. Train ticket starts from Rs.100 onwards depending on the class. The train departs at 7.15 AM approximately and reaches Coonoor around 10.30 AM, Ooty around 12.30 PM. It takes around 4.5 – 5 hours to reach Ooty.
The intermediate stations are
Mettupalayam
Kallar
Adderley
Hillgrove
Runnymede
Coonoor
Welligton
Aravankadu
Ketti
Lovedale
Ooty
And since the route parallels the Ghats, you may spot wild animals such as bears, elephants, Indian Gaur, monkeys, deer, and a variety of birds.
If you have traveled from Karnataka, Andhra Pradesh, or the northern part of India, you can travel to Bangalore/Mysore Airport instead of traveling to Coimbatore for your return journey while enjoying few more places.
Happy Exploring !!!
Do share your experience on the comments below.