So, if you are wondering what's so special about world's one of the Heritage Train, lets get to know why. I'm very happy to share about Nilgiri Mountain Train which runs from Mettupalayam to Ooty.
Yay!
As we all know Ooty (also called Udagamandalam) is the Queen of Hills, the topmost famous place to visit in India.  Ooty is bounded on North by Karnataka State on the East by Coimbatore District, Erode District, South by Coimbatore District and Kerala State and as the West by Kerala State.
I would say that Ooty is worth visiting for all the scenic beauty of mountains, tea estates, lakes, botanical gardens, waterfalls, and cool climate the place has. While travelling by Niligiri Train or walking down the town streets, you can see the British colonial influence in the houses, schools, and churches. The unpolluted, clean, fresh air, cool climate, and scenic green landscapes of Eucalyptus trees add much beauty to the location.
Ooty is also famous for its homemade chocolates, Varkey (snack), tea powder. I would say that Ooty is not only famous for its scenic beauty and yummy beverages like tea, it is also famous for its outstanding educational institutions.
And to add more about Mettupalayam, it is a town at the foothills of Nilgiri Mountains, which is one of the gateway to reach Ooty.
Nilgiri Mountain Railway/Toy Train:
Mettupalayam Railway station is the starting point of the world-famous The Nilgiri Mountain Railway / Nilgiri Toy Train. This world-famous heritage train is one of the topmost reasons why travelers are attracted to Ooty.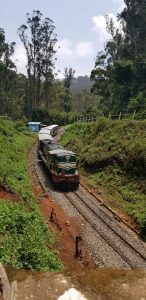 Wondering how to reach Mettupalayam station? I'll tell you how…
You can reach Mettupalayam from Coimbatore, Erode, Tirupur, Salem and also from other cities of the Tamil Nadu. If you are travelling by train or flight, I would suggest to reach Coimbatore since you can find more buses to reach Mettupalayam.
The train runs on the steam engine from Mettupalayam to Coonoor and later on by Diesel engine till Ooty. The route is covered with scenic mountains, dense forests, greeny tea estates, waterfalls, cliffs, bridges, tunnels, and beautiful towns and railway stations.
Tickets can be booked online through IRCTC for the first and second classes whereas open tickets are available for the third class at the Mettupalayam Railway Station.
Ticket Fare & Timings:
It is advisable to book tickets well in advance, especially during peak season. Train ticket fare starts from Rs.100 onwards depending on the class. The train departs at 7.15 AM approximately from Mettupalayam station and reaches Coonoor around 10.30 AM and Ooty around 12.30 PM. It takes around 4.5 – 5 hours to reach Ooty. 
The intermediate stations are
Mettupalayam
Kallar
Adderley
Hillgrove
Runnymede
Coonoor
Welligton
Aravankadu
Ketti
Lovedale
Ooty
And since the route parallels the Ghats, you may spot wild animals such as bears, elephants, Indian Gaur, monkeys, deer, and a variety of birds. And moreover its lot more fun to explore the place with family and friends.
Happy Journey!
Find more about How to Reach Ooty,