Mettupalayam, a taluk and municipality locality in the Coimbatore district, acts as a gateway to Ooty. It is located 35 km to the north of Coimbatore City in TamilNadu, 54 km from Tiruppur, 99 km from Erode, 51 km from Ooty, and 33 km from Kotagiri.
Mettupalayam is one of Coimbatore's largest town panchayats and is located on the banks of the Bhavani River, one of the major water resources that originates in the Nilgiri Mountains. Approximately 90% of the river's water is used for agricultural irrigation in the Erode, Coimbatore district.
It is the primary transportation hub for Mysore, Kotagiri, Karnataka, Ooty, Erode, Sathyamangalam, Coimbatore, Kerala, and other locations. The Nilgiri mountain train departs from Mettupalayam railway station.
Drinking water is supplied to the nearby district of Tiruppur via underground pipelines from Mettupalayam.
The Potato Market on the Mettupalayam to Ooty road and the Vegetable Market on the Mettupalayam-Annur road are well-known, and their products are distributed throughout Tamil Nadu. We are all aware that vegetables and fruits are daily commodities that are required for survival.
Vegetables are either supplied directly by farmers or by wholesalers who act as a bridge between end-users and farmers. There are many agriculturalists in these markets who sell their products through retailers and distributors, either domestically or through export to nearby cities, states, and nations. Several large and small-scale retailers, hotels, food industries, and restaurants depend on vegetable wholesalers for their regular bulk vegetable requirements.
The Kotagiri road is a walking spot where one can see wild animals like Bears, Elephants, Indian Gaur, Monkeys, Deer, and many species of birds. The famous Forest College is located on this Kotagiri road along with the government forest office. You can find check posts near forest college.
The famous attractions in Mettupalayam are
Vanabadrakaliamman temple
Black Thunder water theme park
Kallar
Sirumugai
Then Thirupathi
Karamadai Ranganathar temple
Matheswara Temple
Oothimalai
Idugampalayam Aanjineyar temple
Kurunthamalai and Kumaran Kundru Murugan temple
Ooty (also called Udagamandalam) is the Queen of Hills located in the Nilgiris District of Tamil Nadu and is the topmost famous place to visit in India.  Ooty is bounded on North by Karnataka State on the East by Coimbatore District, Erode District, South by Coimbatore District and Kerala State and as the West by Kerala State.
With the scenic beauty of mountains, tea estates, lakes, botanical gardens, waterfalls, and cool climate, I would say that Ooty is worth visiting. While walking down the town streets, you can see the British colonial influence in the houses, schools, and churches. The unpolluted, clean, fresh air, cool climate, and scenic green landscapes of Eucalyptus trees add to the beauty of the location.
Ooty is also famous for its homemade chocolates, Varkey (snack), tea powder. It is not only famous for its scenic beauty and yummy beverages, but also for its outstanding educational institutions. Usage of plastics materials and products is prohibited.
Best time to visit:
The weather of Ooty is pleasant and cool throughout the year which makes the place remarkable to visit in all the months of the year. The peak seasons are from March to November as during this period the climate is moderate which results in all activities like hiking & trekking.
The Flower Show will be held in the month of May at the Ooty Botanical Gardens. Other famous shows are Vegetable show will be held in Kotagiri, Rose show is held in Ooty, Spices show will be held in Gudalur, Fruit show is held in Coonoor and dog show.
Travelers visiting Ooty are less during the monsoon season between September to January when the weather becomes very cold. But if you want to experience the extremely cold climate it is the perfect time to visit.
How to Reach from Mettupalayam to Ooty
By Road:
Ooty is well connected by road to several cities. You can reach Ooty by bus services from Mettupalayam as well as from other cities like Bangalore (270 km), Chennai (555 km), Erode (150 km), Mysore (125 km), Trichy (285 km), Tiruppur (105 km), Kerala (162 km), Palakkad (131 km), Hyderabad (866 km), Kodaikanal (255 km). There are buses to Coonoor and Ooty, you can board the Coonoor bus and can take either bus or train to Ooty from Coonoor or board direct bus to Ooty.
Bus services usually start at Coimbatore New bus stand (Coimbatore Ooty bus stand). TN government has started bus services from Gandhipuram from 10.00 PM to 5.30 AM to avoid difficulty for the passengers since they can avoid travel to new bus stand. There are two routes to reach Ooty, via Kotagiri and via Coonoor.
Traveling by bus is one of the fastest ways to reach apart from Bikes and cars. It takes around 1 hour 45 minutes to reach Ooty with minimal traffic. The route is Mettupalayam – Kallar – Baraliyar (Burliyar) – Runnymede – Glendale – Coonoor – Wellington – Aravankadu – Ketti – Lovedale – Ooty and the roads are well built which is well maintained by Tamilnadu Government.
The route will have heavy traffic during peak seasons as well as during weekends. During this season the route to Mettupalayam-Ooty will be used only for uphill and while returning travelers are diverted to the Kotagiri-Mettupalayam route.
As you know we can also reach via Kotagiri, 33 km from Mettupalayam. The route is Mettupalayam – Odanthurai Forest Check Post – Mettupalayam View Point – Kunjappanai – Aravenu – Kotagiri – Kattabettu – Doddabetta – Ooty.
The route has lite traffic compared to the Coonoor route. Avoid traveling at night since few vehicles are passing by and you might end up facing wild animals. You can prefer the Coonoor route without any fear since you'll be accompanied by many buses, lorries, cars.
You can also travel by Car and Bikes which will be easy for stopping on the way for some good pictures and mountain views.

Don't forget to take some warm clothes along with you to overcome the cold climate. 

Wear helmets, both riders – or else you'll end up being fined by the police.

Don't forget to have the mandatory tea and some spices while you are traveling to Ooty.
Taxi/Cab charges starts from Rs.1500 onwards depending on the taxi services. Bus ticket fare starts from Rs.50.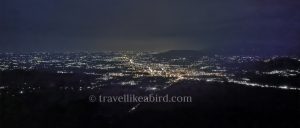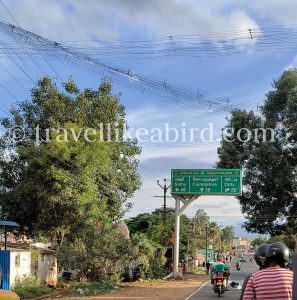 By Air:
The Coimbatore International Airport, which is located at SITRA, is the nearest. The airport is well connected to major airports all across the country as well as several airports outside of the country. The airport is 89 km from Ooty, 69 km from Kotagiri, and there are so many buses, cabs, and rental vehicles available to get you to Ooty, but the cheapest way is boarding an Ooty bus from Coimbatore North bus stand.
Other nearby airports are Salem(231 km), Mysore(117 km), Trichy(286 km).
By Train: 
The nearest railway station is Mettupalayam which is located at a distance of 51 km. You can take the local passenger train from Coimbatore Junction to reach Mettupalayam, which is well connected to major cities across the state and to many cities outside of the state.
Mettupalayam Railway station is the starting point of the world-famous The Nilgiri Mountain Railway / Nilgiri Toy Train. This world-famous heritage train is one of the topmost reasons why travelers and also local people are attracted to Ooty.
The train runs on the steam engine from Mettupalayam to Coonoor and later on by Diesel engine till Ooty. The route is covered with scenic mountains, dense forests, greeny tea estates, waterfalls, cliffs, bridges, tunnels, and beautiful towns and railway stations. Tickets can be booked online through IRCTC for the first and second classes. Open tickets are available for the third class at the station.
It is advisable to book tickets well in advance, especially during peak season. Train ticket starts from Rs.100 onwards depending on the class. The train departs at 7.15 AM approximately and reaches Coonoor around 10.30 AM, Ooty around 12.30 PM. It takes around 4.5 – 5 hours to reach Ooty.
The intermediate stations are
Mettupalayam
Kallar
Adderley
Hillgrove
Runnymede
Coonoor
Welligton
Aravankadu
Ketti
Lovedale
Ooty
And since the route parallels the Ghats, you may spot wild animals such as bears, elephants, Indian Gaur, monkeys, deer, and a variety of birds.
If you have traveled from Karnataka, Andhra Pradesh, or the northern part of India, you can travel to Bangalore/Mysore Airport instead of traveling to Coimbatore for your return journey while enjoying few more places.
Happy Visiting !!
Do share your experiences in the comments.