Negamam :
Negamam, also known as "Periya Negamam" is a small town panchayat in Coimbatore district near Pollachi, which is about a distance of 14 km from Pollachi Taluk and 35 Kms from Winner Shooting Spot, 12 Km from Pollachi Main Rd, Kovilpalayam. Negamam is famous for its Coconut farm since most of the areas are covered with Coconut farm agriculture which makes the place a worth visit.
Both Private and Public buses are available to reach this town by road and the nearest railway station is Pollachi which is about 10 km and the nearest airport is Coimbatore International Airport. You could find more handloom weaving centers where weavers produce Sarees of different vibrant colors and types that are well known all over Tamil Nadu.
Shri Subramania Swamy Kovil / Sri Arulmigu Subramania Swamy Temple : 
Sri Arulmigu Subramania Swamy Temple is one of the pilgrimage places of Pollachi which is at a distance of 1 km from Pollachi Bus Stand, 1 km from Pollachi Junction and Winner Shooting spot is 21 Km from this place. You can find the deity of this temple is Lord Murugan in a sitting position with four hands accompanied by his consorts Valli and Deivanai. The idol with covering called Tiruvachi, Peacock is made of a single stone. Temple is east faced with one Prakara and opposite to Rajagopuram has the shrine of Lord Siva with Lord Dakshinamurthi, Ligothbava, Mother Durga.
It is one of the ancient temples where you can find the great architectural skills of sculptures such as 24 pillar mandapa/Wedding hall of the shrine Lord Sundareswarar and Mother Meenakshi. Devotees do "Alagu Kuthuthal" meaning having the spear-type instrument inserted on their cheeks.
You can visit the temple during your journey start at the Winner Shooting spot, Aathuparai. Temple can be visited during 6 AM – 12 PM,5 PM – 8.30 PM, and entry is free. This temple is fully crowded during famous festivals such as Vaikunda Egadesi, Maha Shivratri, Vaikasi Visakam, Thaipoosam/Thaipusam, Panguni Uthiram celebrated for Lord Murugan.
Aliyar/Azhiyar Dam :
Aliyar Dam is located at Aliyar Village which is at a distance of 24 km from Pollachi and is about 3 Km from Winner Shooting Spot/Winner Falls/Winner water cascade. This dam is built across the Aliyar River mainly used for irrigation purposes by the villages located in Anamalai, Odayakulam, Kaliyapuram, Thensangampalayam, and Kotturand.
It is one of the attractive places to visit in the Coimbatore district, located in the foothills of Valparai and surrounded by Anaimali hills.The dam has attractions such as the park, an aquarium located next to the park, a small theme park maintained by TN Fisheries Corporation. The place is artistic with mountains and Coconut farms encircling the reservoir along with a boating facility.
You will be able to get fresh fish fried at nearby shops. People visiting Valparai, Winner Shooting Spot, Monkey Falls also visit Aliyar Dam on their way. Entry to the dam is free and can be visited all days of the week from 9 AM – 6 PM. One of the shooting spot places in Pollachi.
Aliyar Check Dam/Aliyar Water Cascade:
This is at a distance of 14 km from Pollachi and near Aliyar Dam, also about3ing Spot/Winner Falls/Winner water cascade. One of the attractive places suitable for photoshoots is Pollachi. The water flow area is neat, tidy, lengthy, and less crowded, and best to visit when water flow is optimal. The water is provided by the Aliyar river and surrounded by coconut farms. Precautions must be taken while you go with kids since the reservoir side is so deep of 17 feet approximately. And also be careful of the slippery water place to avoid hitting on the stone.
Mainly used by local people for bathing, chilling, washing. There are no guards to watch over this place since it is not a well-developed tourist place. There is no particular parking place, no rooms for changing costumes after bathing. Entry is free and best to visit in day time avoiding night visits.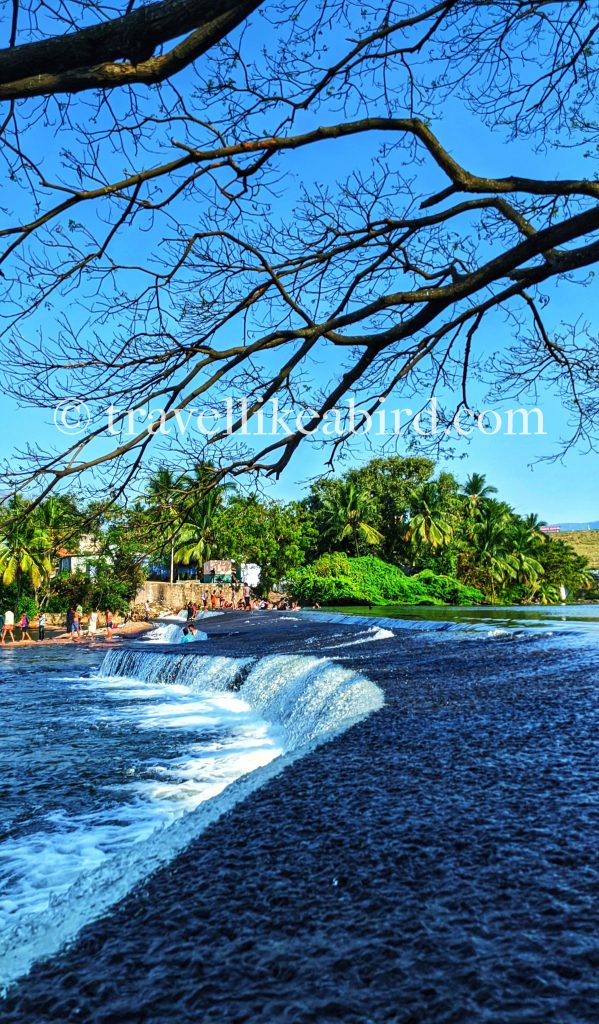 Monkey Falls:
After traveling a distance of 5 km from Aliyar Dam towards Valparai, you could find Monkey Falls. It is located 27 km from Pollachi and 37 km from Valparai and 14 Km from Winner Shooting Spot, One of the best water spots in Coimbatore/Pollachi/Valparai. The falls end in a pool at the bottom surrounded by green forests and cliffs which makes the place more dazzling and fascinating. You could find more Monkeys that make the reason for naming these falls. The falls are closed when there is high water flow or floods during rainy seasons.
There is a forest check post Aliyar dam which has the entry fair ranging from Rs.30-40/Person. You can visit these falls after visiting Aathupari Winner Shooting Spot and also Aliyar Dam.
The peak season of this place is during monsoon months from September-April and is too crowded on the weekends, so people visiting on weekends take care of the belongings and accompanying family members. Transportation to this place can be either by Bus or Private vehicles, all the buses running from Pollachi to Valparai stops at this place. Entry fees are affordable and can be visited from 8 AM – 5 PM. Beware of the monkeys and be careful near the waterfalls since it is slippery.
Arulmigu Masani Amman Temple:
This temple is located 15 km from Pollachi and 14 Km from Winner shooting spot in Anaimali village and can be reached by the public as well as private vehicle with traveling time of around 20-30 Mins from Pollachi bus stand and 1.30-1.45 hrs from Coimbatore. One of the prime pilgrimage places in Pollachi, also known as Anaimalai Masani Amman Temple that can be visited between 6 AM-12 PM and 4 PM-8 PM. Devotees from different places can stay in the hotels available around the temple area.
The temple is unique among all the Amman temples in TN where you can see the goddess deity in lying/sleeping posture with Amman's head in east and feet to the west and She also has four hands, two hands placed on the ground and two hands raised above. The top hands hold a skull and snake and the other two hands hold a drum and a trident. Devotees pray Masani Amman for justice by grinding red Chillies and applying it on the Stone of Justice inside the temple, it is strongly believed that punishment is given by her to ill doers within few weeks of praying. This makes her 'Goddess of Justice'. You can visit this place after visiting Winner Shooting spot/Winner Cascade or also can visit Aathuparai Winner Cascade after visiting this temple.
Anaimalai Tiger Reserve / Indira Gandhi Wildlife Sanctuary and National Park :
Anaimalai Tiger Reserve(ATR) is located in Anaimalai hills which lies South of the Southern Western Ghats, also known as Indira Gandhi Wildlife Sanctuary and National Park. One of the popular tiger reserves in India and the best place to visit with family. This place can be reached from Pollachi (Pollachi – Anamalai – Sethumadai – Topslip) which is at a distance of 40 Km covered in about 2.5 ~ 3 hours. Also valparai is at a distance of 59 Km rom Anaimalai. Anaimalai hills is situated at a height of (8,842 feet [2,695 metres]) and is the highest peak in southern India.
You will find forest check posts in Sethumadai and Topslip on your travel. The headquarters of Anaimalai Tiger Reserve is located at Pollachi Taluk maintained by the Tamilnadu Forest Department and falls in ranges of Pollachi, and Valparai of Coimbatore district and Udumalpet of Tiruppur District and Kodaikanal taluk in Dindigul district.
The park has a wide range of flora and fauna made of Semi-evergreen forests, shola forests, deciduous forests, and wet forests. Water for wildlife is provided by water pools inside the park. Most area is covered by Teak forests which has a great history of Hugo Woods and also has a diversity of bamboos, canes, palms, rosewood trees.
Animals: This park is been the residence for many wild animals like Elephant, Muntjac, Deer/Mouse Deer, Tigers, Bears, Sloth Bear, Wild boar, Sambar, Giant Squirrel, Gaur, Chital, Leopard, Nilgiri Langur, the Bonnet Macaque, Lion-tailed macaque and is commonly sighted interior of the forests.
Birds: This Sanctuary also stands as a paradise for Bird watchers since we can spot various birds like Grey jungle fowl, Barbets, Hill Mynas, Great Pied Hornbills, Whiskered Bulbul, Ceylon frogmouth, Malabar trogon, Spotted Dove, Sparrows, Red treepie, Black-headed oriole.
Tribes: Apart from being home for the animals, these forests have also been home for tribes including Malasars, Malai Malasars, Eravallars, Muduvars, Pulaiyars, Kadars since it provides varied vegetation.
Reptiles/Amphibians you can find: Forests are also standing as a habitat for reptiles and amphibians such as the King Cobra's, Python, Krait, Vine snake, flying frog, tree frog, etc.
The accommodation is provided by Forest Department is not good which needs more maintenance, also provides decent food facility. Safari rides are also offered, which are organised by the forest department and cost a fixed fee for a one-hour ride. Private vehicles are not permitted on safari. Although it is impossible to see all of the wild animals on the ride, elephants can be seen at the Kolikamudhi/Kozikamithi Elephant Camp.
The months of summer and winter are the best season to visit. Safaris and elephant rides may be cancelled during monsoon rains, so those aren't the best days to visit. Treks are also provided on an hourly basis by ATR. To avoid any injuries, precautions must be taken while trekking.
Parambikulam Wildlife Sanctuary, Eravikulam National Park, and Chinnar Wildlife Sanctuary all border the reserve. The park is open from 6 a.m. to 6 p.m., while the forest is open from 7 a.m. to 4 p.m. Jeep Safari is available from 7 a.m. to 11 a.m. and 3 p.m. to 5 p.m.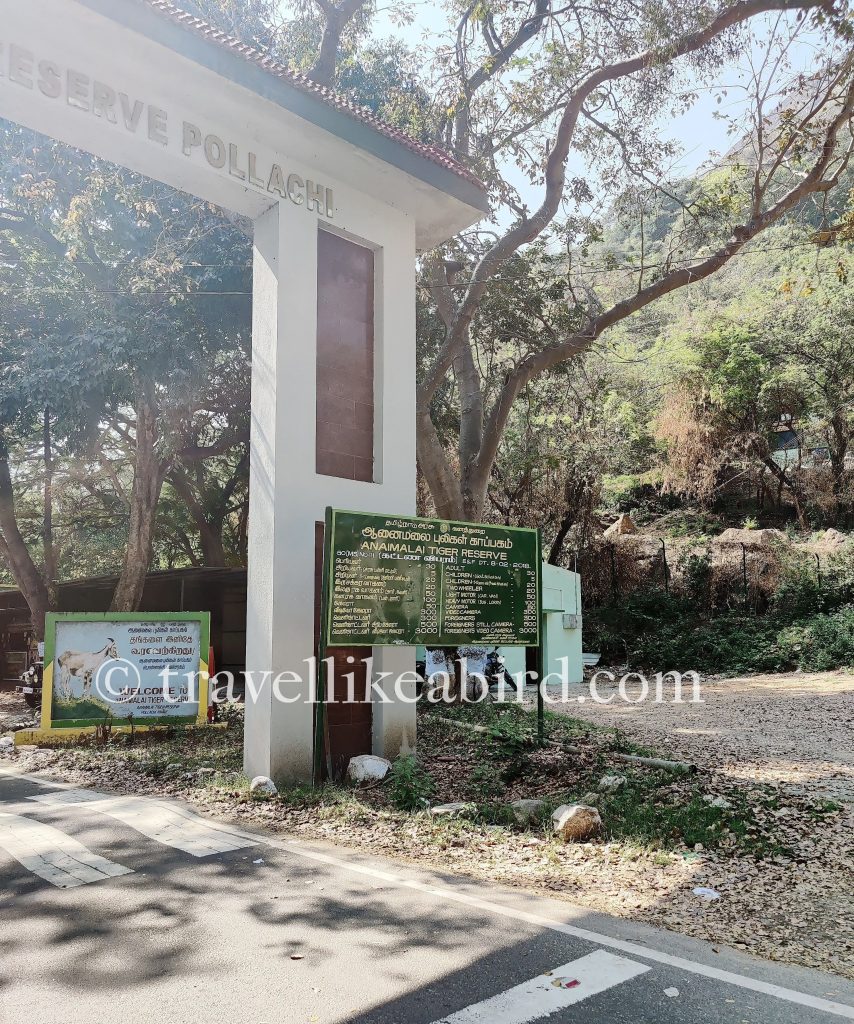 Happy travelling !!!!!