From the bustling streets of India to the serene landscapes of Vietnam, this travel post invites you to embark on a captivating journey across borders. From the Taj Mahal's grandeur to the tranquility of Ha Long Bay, we'll uncover the beauty, history, and magic that bridges these two extraordinary countries. So, let's set our compass eastward and begin this immersive exploration of travel from India to Vietnam.
About Vietnam
Vietnam is a Southeast Asian country located on the eastern Indochina peninsula. It shares land borders with China, Laos, and Cambodia. With over 3,000km of coastline, Vietnam offers beautiful beaches with islands and a diverse landscape ranging from tropical lowlands to towering mountains and dense jungles.
The country is thoroughly influenced by Chinese and French cultures due to its history of conquests. Vietnamese culture today blends both traditional and modern aspects beautifully.
Distance from India
The total distance between major Indian cities like New Delhi or Mumbai to Ho Chi Minh City or Hanoi in Vietnam is approximately 7,500-8,000km. Traveling requires one flight stop. The total travel time is approximately 15-18 hours including stopovers. Major routes involve flying via cities like Bangkok, Hong Kong, Kuala Lumpur, Singapore, or Dubai.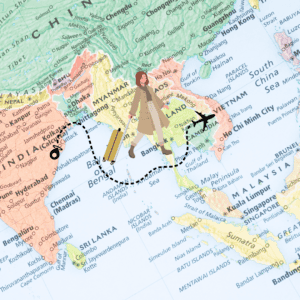 Why Vietnam travel expenditure is cheaper?
Vietnamese Dong has a higher value than the Indian Rupee – 1 INR = 21 VND. This makes expenses cheaper. Daily expenses like food and accommodation are significantly lower than prices in India or other Southeast Asian countries. You can comfortably survive on a budget of Rs. 1500-2000 per day.
Public transport within cities and shorter internal flights are very cheap and efficient. Options range from local buses to metro networks to taxis/bike taxis for short distances. Entrance fees to tourist attractions are nominal, usually around Rs. 30-100. Shopping is also very reasonable compared to global rates.
Places to Visit in Vietnam
Below list are the few top places to visit in Vietnam:
Hanoi – Capital city is known for the Old Quarter and offers sights like Ho Chi Minh Mausoleum, Temple of Literature, Halong Bay (3 hours from Hanoi)
Ho Chi Minh City – Energetic metropolis with colonial buildings and Chinese temples housing war museums and vibrant markets. Includes sight-seeing places like Notre Dame Cathedral, Central Post Office, War Remnants Museum, Cu Chi Tunnels
Hoi An – Ancient town with Japanese bridge, Chinese temples & French colonial buildings
Nha Trang – Popular beach destination with islands, dive sites, and activities like boat rides and water sports.
Sapa – Hilltown with scenic terraced rice fields and mountains offers trekking to ethnic minority villages.
Hue – Home to elaborate imperial tombs set amidst lotus-filled rivers and imperial citadel walls. Sights include Imperial Citadel, Tombs of Emperors, Perfume River
Mui Ne – Stretch of pristine white dunes and long sunny beaches great for kitesurfing and jeep rides.
Halong Bay – UNESCO heritage limestone formations rise from emerald waters, ideal for boating and taking in scenic views.
Da Lat – Called 'The City of Eternal Spring', offers strawberry and flower farms with lakes and waterfalls.
Ha Long Bay – 3000 limestone islands dot emerald waters, perfect for overnight boat cruises and sea kayaking.
Cat Ba Island – Among Ha Long Bay's islands offering treks, cuisine, and beaches close to Lan Ha Bay's caves.
Phong Nha-Ke Bang National Park – World's largest cave system with boats traversing waters inside stalactite caves.
Hoa Lu is an ancient capital with 800-year-old temples and pagodas in tropical mountains.
Da Nang – Central city located between beaches and mountains serving as a central hub with marble mountains.
Bah Hom Pearl Farm – Learn about maritime culture, husbandry, and freshwater pearl harvesting and oysters.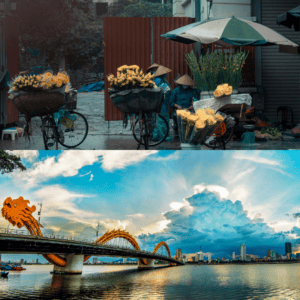 Best Time to Visit Vietnam
November to April for northern regions when the weather is cool and sunny. However, the weather can vary from region to region. Northern Vietnam can get quite cold in December and January, while the south remains warm.
May to September is the wet monsoon season for the north and the ideal time for central and southern regions.
July to August sees Southeast Asia's hottest weather.
October has occasional typhoons, especially in the central region.
Currency & Trip Cost Expenditure
Local currency is Vietnamese Dong (VND) & 1 Indian National Rupee (INR) = Approximately 290 VND.
Budget of Rs. 1500-2000 per day for decent accommodation, local transport, and food including one long-distance bus or train journey.
Internal flight tickets usually cost no more than Rs. 2500-3000 one-way between major cities like Hanoi and Ho Chi Minh.
Entrance fees to popular sites like Halong Bay, and Phong Nha Caves usually cost around Rs. 100-300.
Shopping is very economical with daily goods costing less than Rs. 50-100.
Things to Avoid in Vietnam
Do not show any disrespect towards the Communist Party or government-related materials and places.
Never discuss Vietnam War experiences without understanding subtle local sentiments.
Drinking and driving is strictly prohibited. Drunk public disturbances are also not appreciated.
Never try to bargain prices at high-end stores, restaurants, or organized tourist activities.
Mode of Transportation & Documents Required
Direct flights from Delhi/Mumbai/Bangkok to Hanoi or Ho Chi Minh by various airlines like Vietnam Airlines, Thai Airways, etc.
Inter-city bus services like Mai Linh, and open-seater boats between villages.
Trains connect major cities like Hanoi to Hue comfortably over scenery.
Local buses, metro, taxis, Uber/Grab within cities. Motorbike taxis are a popular choice.
Passport valid for 6 months. Indian citizens get a 15-day visa on arrival at airports.
Vietnamese Visa: Most Indian tourists will need a visa to enter Vietnam. You can apply for one in advance at the Vietnamese Embassy/Consulate or opt for an e-visa. Make sure to check the latest visa requirements.
Food Culture & Lifestyle
Vietnam's food culture is a tantalizing tapestry of flavors, deeply rooted in its history and geography. Rice, the dietary staple, finds its way into countless dishes, like pho and com tam.
Pho – Vietnam's national dish, a broth with rice noodles, herbs & meat like beef.

Com tam – Broken rice with a variety of meat & vegetables.

Ca phe sua – Vietnamese-style iced coffee with sweetened condensed milk.
Fresh herbs, like basil and cilantro, add aromatic freshness. The use of fish sauce, a pungent condiment, lends a unique umami punch. Street food vendors offer an array of treats, from banh mi sandwiches to crispy spring rolls. Regional diversity shines through dishes like bun bo Hue and cao lau. Meals are often communal, celebrating the bond of family and friends.
Vietnam's food culture is a true embodiment of its rich heritage & each dish is a story of heritage, innovation, and regional uniqueness. Buddhism remains the primary religion with Confucian practices still seen in rituals.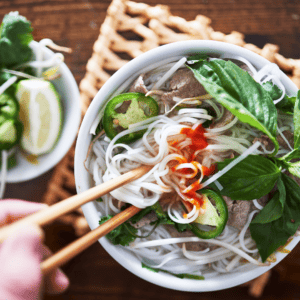 Popular Shopping Places
Ben Thanh Market in Ho Chi Minh City – For Souvenirs, clothing, bags, electronics, etc.
Old Quarter alleys in Hanoi – Silk clothing, lacquerware, handicrafts.
Hoi An Ancient Town – Tailored suits, and dresses using Vietnamese silk and fabrics.
Nha Trang Beach Road – Local snacks, and souvenirs from beachside stalls.
Learn basic greetings in Vietnamese for respectful interaction.
Bargain well for goods and rent bikes/motorbikes from reputed sources only.
Use tank locks, and secure bags while riding bikes to avoid pickpocket attempts.
Tap water is not advisable for consumption. Drink only treated or bottled water.
Medical facilities in cities are well-developed but carry basic medicines/ first-aid kits.
Frequently Asked Questions
Q. Do I need a Vietnam visa?
With an Indian passport, you get visa-free entry for 15 days on arrival in Vietnam by air or 30 days by land.
Q. What is the vaccination requirement for Vietnam?
No specific compulsory vaccinations are required. However, suggestions for protection against Hep-A, and typhoid are recommended based on travel plans.
Q. How safe is it for Indian travelers in Vietnam?
Vietnam is considered very safe for travelers. Petty crimes exist in busy areas, but violence or hardcore crimes are almost rare. Use usual travel precautions.
Q. Are credit/debit cards widely accepted in Vietnam?
Major credit cards are accepted in most places but not all. Best to carry some cash in Vietnamese Dong for flexible use.
Q. What are the mobile connectivity and SIM options in Vietnam?
Vietnam's 3G/4G networks provide reliable connectivity. Affordable prepaid SIM cards are easily available from 2 main operators Vinaphone and Mobifone within a day of arriving.
Q. What should be the essential travel documents?
Along with the valid 10-year passport, keep multiple photocopies, a few passport photos, and a vaccination certificate handy as per requirements.
Happy Travelling:)