Traveling is fun and exciting. It broadens your horizons, introduces you to new cultures, and creates lasting memories., but it also brings its challenges. Many veteran travelers have learned useful tricks over the years that may not be widely known. Here are some basic travel tips for travelers that can help make your trips more enjoyable, and even more affordable.
Packing Tips
Packing for a trip can be stressful as you try to fit everything you need into your luggage while staying under the weight limit. Here are some tricks and one of the important travel tips for travelers to make packing easier:
Roll clothes instead of folding
Rolling clothes takes up less space in your suitcase and keeps clothes wrinkle-free.
Use packing cubes or vacuum-sealing bags.
Packing cubes or vacuum-sealing bags help organize your suitcase and squeeze out excess air. This saves space and prevents clothes from getting crushed.
Repack your suitcase before heading home.
As you use items during your trip, repack your suitcase each night before going to bed. This ensures you have enough room for souvenirs and prevents overpacking on the return trip.
Pack a spare outfit in your carry-on.
If your checked bag gets lost, it's reassuring to have a change of clothes with you. Also pack any medication, electronics, or valuables in your carry-on in case of lost luggage.
Roll up cords instead of coiling.
Rolling cords into tight rolls instead of coiling keeps them from becoming tangled messes. This works for charging cables, headphones, etc.
Seal snacks and toiletries
Put snacks, toiletries, medicines, and small items into resealable bags or containers to prevent leaks and spills inside your suitcase. Mark the contents of each bag.
Don't forget layers.
When packing for unpredictable weather, include shirts or pants you can layer as temperatures change during the day or on different legs of your trip.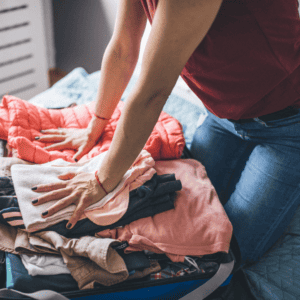 Hotel and Accommodation Tips
Here are some hacks to maximize your hotel or accommodation experience:
Request a high-floor room.
High-floor rooms tend to be quieter and come with nice views. Some hotels may even upgrade you for free based on availability.
Check for room upgrades upon arrival
Hotels sometimes have complimentary upgrades available if you inquire at check-in. It doesn't hurt to politely ask.
Discover rewards programs.
Most hotel brands have loyalty programs that provide perks like free nights. Sign up before your trip for potential rewards on future stays.
Shop business rates on leisure travel
If traveling alone, book the hotel's "business rate" which is usually cheaper than a standard room. You still get the same room and amenities.
Ask about late checkout.
Many hotels will grant a late 11 AM checkout if you request it, especially if you don't have back-to-back reservations. This gives you more morning time before checkout.
Bring a travel adapter.
International hotels may not provide the right plug adapters for charging devices. Bring a universal travel adapter to plug in anywhere. In this digital age, we rely heavily on our electronic devices. Packing a portable power strip with multiple outlets and USB ports ensures that you won't be fighting for charging space in your hotel room. It's a small, lightweight item that can be a game-changer.
Hidden cleaning supplies & hotel amenities
Check dressers, nightstands, and closets for extra linens, soap, shampoo, etc. that aren't always out in the open. In addition to the pool and gym, see if your hotel offers perks like free breakfast, Wi-Fi, parking, foreign currency exchange, or luggage storage upon early check-in or late checkout.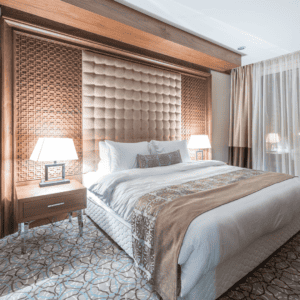 Transportation Tips
Smooth transportation is key when navigating new cities or countries. Here are some tips:
Sign up for Uber, Lyft, or local rideshare apps in advance so you're set up when needed during travel.
Buy transit passes ahead of time.
Consider buying transit passes, commuter rail passes, or multiday metro tickets online before arriving to save money versus paying per ride.
Look into airport shuttles.
Hotels or tourist areas may offer cheap shuttle services from the airport that make more sense than an expensive taxi.
Use offline maps.
Download maps of cities you're visiting onto your phone in case you lose service while navigating. Apps like Maps. I and CityMaps2Go allow offline maps. Access to mobile data may not always be reliable, especially in remote areas. Download maps of your destination for offline use using apps like Google Maps. This way, you can navigate without an internet connection.
Travel light on public transit.
Pack essentials in a single small carry-on bag to avoid checking luggage or using taxis when taking trains, buses, or the metro within cities.
Embrace Local Transportation.
While taxis and ride-sharing services are convenient, consider using local public transportation. It's often more affordable and provides an authentic experience of how locals get around. Just be sure to research routes and ticketing in advance.
Confirm taxi flat rates.
Some international airports have set flat rates for popular tourist areas that are negotiated in advance. Know these rates to avoid scams.
Learn transportation etiquette.
Understand basic norms like waiting your turn to board, offering elderly/parents with children your seat, and being respectful of other riders.
Sightseeing and Activity Tips
Choosing how to spend your limited time as a visitor calls for smart sightseeing planning. Consider these tips:
Research top attractions.
Read guidebooks, blogs, and travel sites to learn which activities are absolute "must sees" versus nice-to-dos to prioritize efficiently.
Check entry times.
Many museums publish the dates they receive new exhibitions or the busiest days of the year when it's best to arrive early or book tickets in advance.
Walk like a local.
Studying maps lets you spot appealing neighborhoods slightly off the beaten path versus spending all your time touring congested hotspots.
Visit administrative centers.
Places like small town halls or government centers are often historic buildings open to visitors with less congestion than main attractions.
Stroll through parks.
Wandering parks and gardens offers visual exploration without strict itineraries or timed entries to other sightseeing spots.
Cycle for transportation.
Rent bikes to travel between attractions while taking in scenery versus using limited daylight just waiting for buses or subways.
Look for free days.
Many museums and attractions waive entry fees on certain days of the week or month to budget limited funds across multiple sites.
Download audio guides.
Audio guides accessed through apps let you learn about exhibits while keeping your hands and eyes free to take photos and videos. Some are even included free with museum admission.
Check for Local Holidays and Events.
Before your trip, check for local holidays and events that may affect your travel plans. Some attractions or services may be closed, or accommodations could be scarce during festive seasons.
Explore Beyond Famous Tourist Hotspots.
While famous landmarks are must-see attractions, don't forget to explore less-visited areas. You'll often discover hidden gems, interact with fewer tourists, and create unique memories.
Dining and Shopping Tips
No trip is complete without enjoying local dining and shopping. Consider these tips:
Research cuisine specialties
Eat regional dishes unique to the area, not just fast-food chains available worldwide. Ask locals what the must-try dishes and restaurants are.
Try street food and markets.
Wandering outdoor markets and street vendors introduces you to authentic local flavors at affordable prices versus formal restaurants.
Explore ethnic neighborhoods.
Dining in neighborhoods known for Chinese, Indian, Italian, Mexican, or other ethnicities exposes you to cuisine not watered down for tourists.
Look up happy hours.
Take advantage of discounted food and drinks during restaurants' designated happy hours to enjoy nicer establishments on a budget.
Shop local artisans.
Bazaars and indie shops sell handicrafts, art, jewelry, and goods directly from the originating culture rather than mass-produced imports.
Visit weekend markets.
Flea markets, farmers markets, and seasonal fairs feature unique items, foods, and live entertainment perfect for wandering and discoveries.
Ask for better prices.
Small shops may discount items further if you politely ask, "Is that your best price?" especially when buying multiple things.
Try bartering.
In some regions, respectfully negotiating prices down fractionally is expected and fun at open-air markets versus fixed tag prices.
Eat Where the Locals Eat.
Skip the touristy restaurants and ask locals for recommendations. Dining at local eateries not only saves you money but also allows you to savor authentic cuisine that reflects the culture of the region.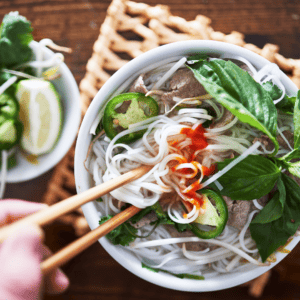 Staying safe, healthy, and generally well during your travels is possible with some planning:
Make copies of important documents
Before your trip, take clear photos of your passport, visa, driver's license, travel insurance, and other important documents. Leave copies of these with someone at home store these images in a secure cloud storage service or email them to yourself in case the originals get lost or stolen.
Backup photos regularly
Use cloud backups, memory cards, or portable hard drives to protect precious trip photos from device loss or failure. Some phone stores may retrieve photos from lost devices for a fee too.
Consider travel insurance!
While it may seem like an extra expense, travel insurance is essential. Policies cover trip cancellations, medical treatment, travel delays, lost luggage, and other unplanned expenses to give peace of mind.
Carry basic first aid
A compact first aid kit can be a lifesaver when you encounter minor injuries or health issues during your trip. At a minimum, pack bandages, antiseptic, pain relievers, antihistamines, anti-diarrheal medication, and first aid guides translated into local languages.
Stay hydrated
Drinking sufficient water and having snacks handy combats fatigue, jet lag, and altitude sickness to help you stay sightseeing. Also, buying bottled water can be expensive and bad for the environment.
Explore Off-Peak Seasons
Traveling during off-peak seasons can offer numerous advantages. Not only will you avoid the crowds and long lines at popular attractions, but you can also find better deals on accommodations and flights. Plus, you'll get a more authentic feel of your destination when it's less crowded.
Learn a few basic phrases in the Local Language
While English is widely spoken, learning a few basic phrases in the local language can go a long way in connecting with locals and showing respect for their culture. Memorize please, thank you, hello, goodbye, and essential phrases like "Do you speak English?" in the local language to show respect when asking for help.
If you're visiting a country with a language barrier, a portable language translator device or app can be invaluable for communication. It can help you ask for directions, order food, or engage in basic conversations.
Use Cash and Local Currency
While credit cards are convenient, some places may not accept them. Carry some local currency for small purchases and places that only accept cash. Also, inform your bank about your travel plans to prevent card issues abroad.
Follow news and advisories.
Check for travel warnings, health recommendations, natural disasters, or other changing risks in areas you'll visit through local consulate or government sites. Adjust plans if needed.
Use a VPN for Secure Connections.
When connecting to public Wi-Fi networks abroad, it's crucial to protect your sensitive information. A virtual private network (VPN) can encrypt your internet connection, keeping your data secure while browsing, banking, or accessing personal accounts on the go.
Lastly, the most valuable tip of all is to keep an open mind and heart. Traveling is about embracing new experiences, cultures, and perspectives. Approach each journey with curiosity, respect, and a willingness to learn.
I hope these travel tips help make your journeys more carefree and enjoyable! Experienced travelers discover all sorts of helpful tricks perfect for newcomers. Following this advice will help you optimize your packing, lodging, transport, sightseeing, money-saving, and overall wellness on any future trips. Safe travels!