Valparai
Valparai is a scenic hill station located about 110 km from Coimbatore in Tamil Nadu. Nestled in the lush Annamalai hills and covered with dense plantation forests, it makes for an ideal nature getaway from the surrounding industrial towns. This place is liked by bike travelers quite a lot due to the beautiful scenic routes.
It is near Pollachi with a distance of approximately 70 km from Pollachi town. You can plan your vacation or trip to places in Pollachi on your way so you can cover more places on your trip.
How to Reach Valparai
This place is easily accessible from Coimbatore, Pollachi, Erode, Tirupur, and all other nearby cities. If you are visiting from elsewhere, you can travel to Coimbatore/Tirupur and then plan your journey to Valparai from there.
By Bus
Throughout the day, frequent government and private buses run between Coimbatore/Pollachi and Valparai. If you are traveling from Coimbatore, you can board the bus at either Ukkadam Bus Stand or Gandhipuram Bus Stand. As far as I know, many buses depart from the Ukkadam bus station. The entire journey takes about 3 hours from there.
If you're planning to take a bus from Pollachi, you may find buses at the Pollachi bus stand. There are several buses that also run from Erode, Tirupur, and Salem.
By Train
Pollachi Junction, located 2 kilometers from Pollachi bus stand, is the nearest railway station. You can take a bus or rent a car/travel accordingly from Pollachi to Valparai.
Coimbatore Junction, about 2 kilometers from the Ukkadam bus stand, is the other nearest railway station. You can take a local bus from Coimbatore Junction to Ukkadam bus stand and then board a bus to Valparai from here.
By Road
This place is well-connected by road; you can drive yourself or book a car from Coimbatore, Pollachi, or Udhagamandalam. You can plan a road trip from anywhere, and I would recommend taking the National highway wherever it is available to avoid city traffic jams. The exquisite trip through forests and plantations is an unforgettable experience itself.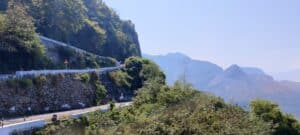 By Flights
The closest airports to Valparai are Coimbatore International Airport (CJB), which is about 120 kilometers away, Cochin International Airport (COK), which is about 117 kilometers away, and Kozhikode/Calicut International Airport (CCJ), which is about 210 kilometers away.
You can fly into one of these airports and then take trains, buses, or cabs as needed.
Best Time to Visit
Because of its elevation of 1,100 meters above sea level, Valparai offers beautiful weather all year. However, the best time to visit is from March to June, when summer is in full swing in the plains below. Spending a day in nature is refreshing, thanks to the clear skies, gentle wind, and abundant greenery.
Traveling during the monsoon season is extremely dangerous since the rain makes the roads unsafe. If you plan to travel during the monsoon season, take the required precautions before leaving and drive safely if you are driving your vehicle.
Places to Visit in Valparai
Chinnakallar Falls
It is about 15 kilometers from the Valparai bus stand. Chinnakallar Falls, one of the most beautiful waterfalls near Valparai, flows down a steep hill into a peaceful pool. The difficult 600-step downhill offers incredible views of the Western Ghats. If you want to enjoy the scenery, visit early to avoid crowds.
Balaji Temple
This temple is 10 kilometers from Valparai. It is well-known for its tranquil atmosphere and architecture. Spend 30 minutes to an hour touring the temple and its surrounding areas. The temple's architecture is notable, and it creates a peaceful environment for relaxation and meditation.
Sholayar Dam
Drive 23 kilometers from Valparai to the Sholayar Dam, one of the biggest dams and an excellent scenic location in Valparai. Enjoy the stunning views of the dam as well as the mountains that surround it and forests. You can spend approximately 1-1.5 hours here.
Valparai Viewpoint
Again, Valparai Viewpoint, also known as Loam's Viewpoint, is a must-see attraction located 10 kilometers from the Valparai bus stand. It provides breathtaking views of the neighboring hills and tea estates. The view is especially stunning around sunset, so plan your visit accordingly.
Anamalai Tiger Reserve
Anamalai Tiger Reserve is located in Anaimalai Hills which lies South of the Southern Western Ghats, also known as Indira Gandhi Wildlife Sanctuary and National Park. One of the most popular tiger reserves in India and the best place to visit with family. Valparai is at a distance of 57 Km from Anaimalai Tiger Reserve & you can reach this place from Pollachi (Pollachi – Anamalai – Sethumadai – Topslip) which is at a distance of 40 Km covered in about 2.5 ~ 3 hours.
Tea Plantations
Valparai is surrounded by breathtaking tea estates that provide a refreshing to ourselves. Explore the tea-making industry as you walk over cultivated hills full of vibrant green plants.
Malakkappara Tea Gardens, located approximately 25 kilometers from Valparai, is famous for its tea farms, and these gardens offer a glimpse into the region's tea cultivation. The hilly landscape covered in tea plantations is a beautiful sight.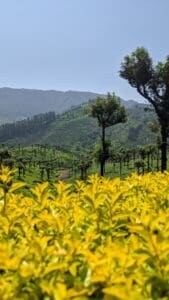 Places to visit nearby Valparai
Some of the other places to visit near Valparai are:
It is located 65 kilometers from Valparai and is well-known for its rich cultural heritage and tourist attractions. Aliyar Dam, Winner Shooting Spot, Arulmigu Masani Amman Temple, and Thirumoorthi Falls are the few major attractions.
Coimbatore
Coimbatore is 110 kilometers from Valparai. Being an educational hub and industrial center for many around the city, it has numerous places to visit like Maruthamalai temple, Isha Yoga Center, Perur temple, Vellingiri hills, Kovai kutralam, Valaiyar and so on.
Ooty
It is located 190 kilometers from Valparai, called the Queen of Hill Stations. Botanical gardens, boat houses, tea plantations, tea manufacturing firms, Kateri Park, and other attractions are must-sees.
Kotagiri
Kotagiri is quite a calmer spot than Ooty, with fewer tourists, yet it is a great destination not to miss on your vacation. This is approximately 170 kilometers from Valparai.
Athirapally Waterfalls
Athirapally Waterfalls, which is about a 2-hour drive from Valparai are often referred to as the "Niagara of India" and are known for their stunning beauty and lush surroundings.
Vazhachal Waterfalls
After visiting Athirapally, you can visit Vazhachal Waterfalls, which is located nearby. These waterfalls are equally impressive and offer a serene natural setting. You can take a walk around the area and enjoy the scenery.
Things to Do in Valparai
– Trekking to viewpoints, off-beat trails, and surrounding scenic hills.
– Rural sightseeing through plantations spotting rare birds and wildlife.
– Homestays overlooking valleys, tea estates, or forest areas.
– Photography tours capturing the natural rustic beauty.
– Don't forget to savor some local cuisine while in Valparai. Try dishes like dosa, idli, and various South Indian specialties at local eateries or restaurants.
Key Takeaways
As seen above, the environs of Valparai overflow with scenic natural beauty. From thundering waterfalls and winding plantations to misty hills and vibrant jungles – there's plenty to satiate nature lovers and photographers. Proper planning helps you experience this picturesque locale and its diverse attractions to the fullest.
FAQs about Places to Visit in & around Valparai
Q. What is the best time to visit different attractions?
The winter season from January to May sees pleasant weather. Summer can be hot while monsoon rains may affect access to some destinations.
Q. What are the key things to carry?
Light clothing, comfortable trekking shoes, sunscreen, rain gear, first-aid, cameras, binoculars, and drinking water as essentials. Cash for spot payments like entry tickets.
Q. How to commute between places?
Public transport like buses connects most. Car/bike rentals are available too. Taxis can be hired from major towns for outstation trips to reserves like Mudumalai.
Q. Are guides necessary for any destinations?
Guided tours are recommended for wildlife spots within tiger reserves to spot animals safely as per protocols. Some waterfalls may also need local assistance for tricky routes.
In conclusion, Valparai has plenty of extraordinary attractions to keep everyone entertained. Its stunning scenery, mild climate, and numerous options of tourist attractions make it a perfect destination at any time of year.
Also, check the opening hours of the attractions you plan to visit, as they may differ. While this article provides you with an overview of Valparai, spending more time in this beautiful place will allow you to explore it a bit more and enjoy its natural beauty to the fullest.